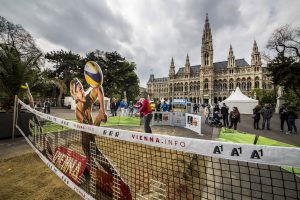 In City Golf Vienna 2017 – Premiere for 18 holes through the city centre of Vienna
In City Golf turned the Viennese city centre into a golf course on Easter. On April 14th and 15th 2017, it was finally time! 72 players golfed across the city center. "Bringing golf to the big city is a great idea and attracts a great deal of attention. We hope to reach many people who have not yet been involved in golf. In City Golf is a chance to show people how exciting and interesting golf really is!", said ÖGV-President Dr. Peter Enzinger before the event.
Golfing across the city center
The first lanes led the players through the Burggarten and Volksgarten. After an intermezzo at the Musikvereinplatz, a hole with water hazard, in the 5 ***** Hotel Marriott, formed the crowning conclusion of the "city" holes. The town hall, the center of the entire event, offered plenty of action for spectators. In addition to the 9 holes reserved to the players, there were two stations where children and adults could test their golfing skills. A large SNAG Golf Inflatable was located near the Ringstrasse, and at the upper end of the town hall was a disabled golfing station, where irons and drivers ensured a real golf feeling.
Charity putting challenge for Wings for Life
"If it is possible, we always like to support with In City Golf charity projects and foundations! This time we organized a putting challenge for everyone on the world's largest mobile putting green, from our partner Brilliant8 from Villach", said Kurt Anrather, organizer of the In City Golf event in Vienna. 100% of the donations went to the Wings for Life Foundation, founded and established in 2004 in Salzburg. The clear goal: spinal cord injury must become curable. 100% of all earnings go to selected projects to to find a cure for spinal cord injury.